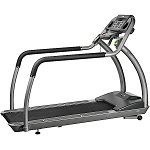 What are treadmills?
Treadmills are a very common and iconic type of exercise machine, possessing an endlessly revolving track that the individual using one can traverse. This provides the same kind of workout that walking or running can provide, with the added benefit of control over the grade of incline and speed control. Modern treadmills feature programmable exercise routines and firmly motivate the user to perform the exercise in its entirety. These machines are a common sight in virtually any gym, and are extensively used in medicine for physical therapy, weight loss, and fitness testing.
Repair services we provide:
Calibration and adjustment of the exercise machine, as well as repair and replacement. Regular safety checks are crucial for predictable and secure operation of exercise machinery. Provided that the replacement parts are still in production, we are able to obtain them from the manufacturer directly.
Some common issues:
Worn belts, worn bearings, broken and worn plastic parts, faulty motors, wiring, and control boards.